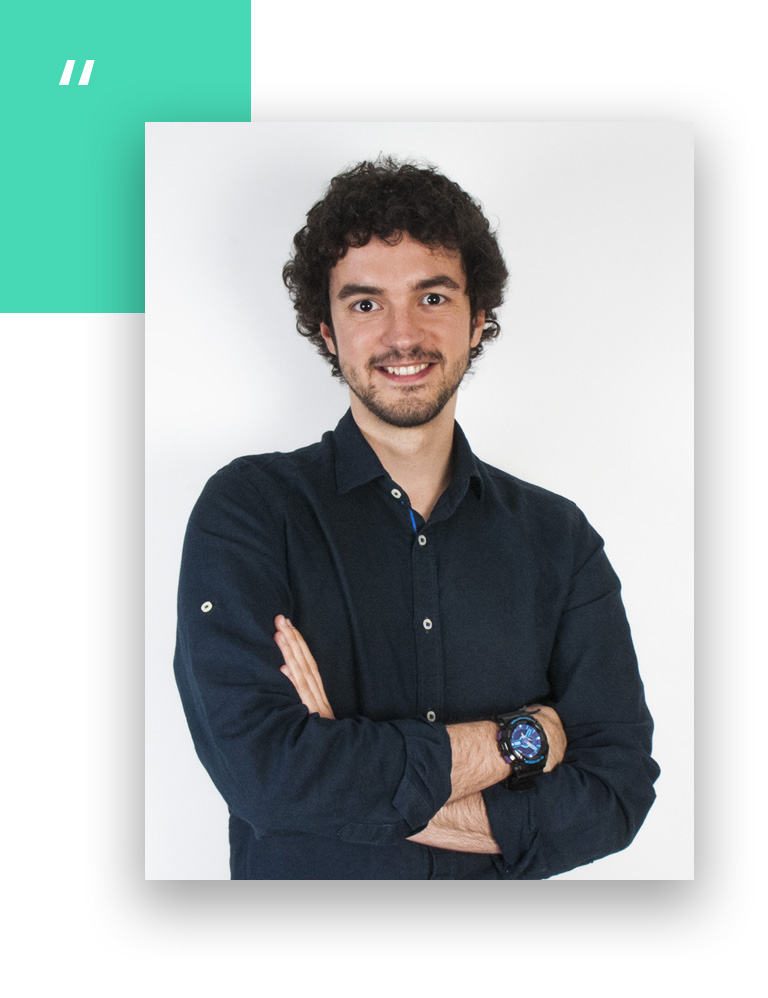 Digital Business Developer
"I am specialist in project management and digital marketing. I work from scratch, participating in all phases of creation process and project's development."

"Now the customers are user"
FOUNDER, UI UX DESIGNER, FRONT-END DEVELOPER / Alusión Digital
 Digital Advertising Company. Jun. 2015 – Now. Barcelona
CEO. Business administration, Project management. Web and UX designer, Front-end developer. Services: Digital communicationand online marketing, creativity and websites/apps development.
WEB DESIGNER & DEVELOPER / GVC Holdings, Atlantic Version
Online Bets and Casino · Dec. 2014 – Jun. 2015. Barcelona
Gambling company. Online bets, casino and slots. Web design and development for apuestalatina.com, latin american version of british company GVC Holdings-Sportingbet.
WEB DESIGNER, DEVELOPER: / Eumo
 Graphic Design Studio · Jun. 2014 – Dec. 2014
Web design and development for brands and companies.
FREELANCE / Dogwithglasses
 Onffline Advertising · Sept. 2013 – May 2015. Barcelona
Off-online advertising campaigns. Design and web development, SEO, Web analitycs. Online strategy and social media management.
WEB DEVELOPER / De Ramos & Serch
 Digital Design Studio · Jul 2013 – Jul 2014. Zaragoza
Layout design and web optimization.
Online marketing, SEO, Analitycs and Social Media campaings.
CREATIVE STRATEGIST / 3lemon
 Advertising Company · Sept. 2010 – Jun 2013. Zaragoza & Madrid
Advertising campaigns for brands: Peugeot, Nokia, Movistar, Telepizza, Grupo Cortefiel (Springfield, Pedro del Hierro, Cortefiel), Grupo Vips, Bankia, El Corte Inglés.
Manager of corporate profiles in social media, content creator, offline/online campaigns, Activity reports, SEO y online reputation, blogs and forums monitorization. Commercial proposals for brands and advertising agencies contests.
EVENT'S ORGANIZER / Persuasión
 Congresses and Events · Sept. 2008 – Dec. 2010. Zaragoza
Events and congresses organization in Zaragoza's Trade Fair, Auditory and y Chamber of Commerce. Promotion of products for Motorland, Cafés Orús and Bosch. Nights parties for White Label, Seagrams, Cuttyshark, Jack Daniels or Bacardi.
CAMPAIGN CORDINATOR / Expo Zaragoza 2008
Internacional Exposition. Jun 2008 – Sept 2008. Zaragoza
Desalated water's campaign organizer and cordinator. Promotion for Spanish Environtmental Minister in Spanish Pabillion and Water's Tribune during the International Exposition in Zarragoza.
AWARDS
First Prize, Explorer Terrasa Space 2018.
Startup's Explorer Program of Santander Bank
Creation of business model and development of an online platform "iwanta.pet" to facilitate the pet adoption between animal shelters and people. In addition, the platform has a marketplace with professionals, services and shops specialized in pets.
The prize was a travel to San Francisco where we can visit the headquarters of Silicon Valley's big companies such as Google, Apple, Facebook or Airbnb.
COURSES
Startup's Program Explorer of Santander Bank
CISE, Terrassa Space. Feb 2014 – Jul 2014. Barcelona
Adwords & SEO/SEM
Google Academies. 2013. Zaragoza
Digital Project Management and Web Creation
Ibercaja Zentrum. 2013. Zaragoza
SKILLS AND TOOLS
Analitycs, Management and Prototyping
Google Analytics, Google Search Console, Hotjar, Invision, Sketch, Mindmeister, Slack, Trello.
---
Social Media and Internet
Corporate and brands online profiles management.
Tweetdeck, Hootsuite, Bufferapp.
Google Adwords, Facebook Ads, Instagram Ads.
Planning and strategy for on-offline campaigns.
Online reputation and SEO.
Online content creator.
---
Design and Development
Adobe Photoshop, Adobe Illustrator, HTML, CSS, Javascript, WordPress, Cake, CodeIgniter, Mailchimp, Powerpoint, Keynote, Office.
LANGUAGES
English B2 Level
I'm studying to get the First (FCE).
---